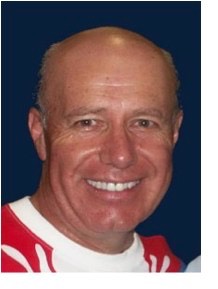 David was born and raised in Merrylands, New South Wales. As a young boy he enjoyed playing tennis which he continued to play competitively till his mid-teens. David joined the cadets when he was in high school and enjoyed the camaraderie and discipline that the army cadets instilled in students.
David started his working life in the Rural Bank in Sydney. After a while he applied for a job as a trainee sales representative for L'Oreal selling hairdressing products. In 1980 he decided to go into business for himself selling sundry items and hairdressing products. In 1992 he was given the opportunity to go to Germany to learn to sharpen hairdressing scissors in a manufacturing plant in Solingen. David returned to the factory many times to refresh his scissor sharpening skills.
David is passionate about cars, in particular Jaguars. He meticulously prepares two classic Jaguars for Concourse competitions each year.
David discovered the wonderful world of square dancing through Fred and Elizabeth Meads' Sparkilate club in the early seventies, soon becoming Fred?s trainee caller. After a Ron Jones Caller's school in 1973, David opened the D-Bar-T square dance club in Merrylands NSW. He later ran a second club with Kevin Ryan at Parramatta. During this time David was involved in competition dancing and the training of many teams. In 1978 David called at the 1st National Canadian Convention in Alberta, Canada which was definitely a career highlight.
After a long break David returned to square dancing in 1996 and living in Blaxland in the Blue Mountains, formed the "Mountain Devils" club. He has also called for Fairfield RSL Youth Club and Fifty-Fifty club at Greystanes. In 1999 David was asked to work at Blaxland East High School to teach square dancing in their gross motor program for years one and two. He now teaches square dancing at a number of Lower Mountains Primary Schools, introducing modern square dancing to hundreds of young Australians.
David has served as President of the NSW Callers' Association, Public Relations Officer of the ACF, President of the Competition Society and is currently President of the newly formed Square and Round Dance Association of NSW. He was the convenor of the 2000 NSW State Convention and was part of the committee for the NSW State Convention in Kiama.
Square dancing has been a particularly rewarding activity for David. As President of the Square & Round Dance Association of NSW he hopes to promote square dancing to the broader community and gain lots of new dancers to this wonderful activity.